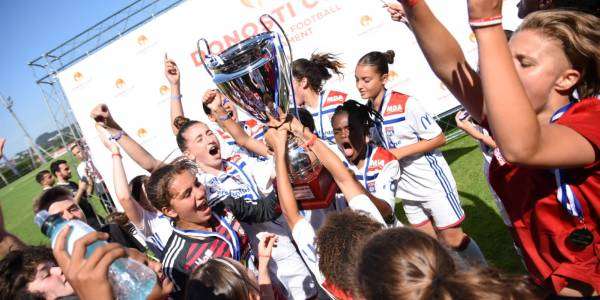 Olympique Lyon returns to the Donosti Cup with the aim of revalidating the champions title
The G14 category is becoming one of the most powerful categories in the tournament. If last week we announced the participation of Liverpool, this time it is the turn of Olympique de Lyon, a team that in the last edition was proclaimed champion of that category with a very young team.
The Olympique de Lyon is a guide for girls' football worldwide. In 1970, the girls' section of Lyon FC was founded, and in 2004, after its integration into the Olympique de Lyon their sporting successes have made this club to become the most successful European club.

It already has the chilling number of 6 Champions Leagues and 13 French Leagues, in two of them winning every match. In addition to these titles, they have an International Championship and 10 French Cups. In the recent season, they are the leaders of 1st Division and they are still alive in the Champions League and in the French Cup.

This will be their third participation in the Donosti Cup. In their first participation the G14 team reached the big final, but they lost with Osasuna and had to settle for the runner-up. In the last edition, with a very young team, they were proclaimed champions of the tournament after beating the Catalan team Futfem Talent in the final. This year, they will try to revalidate the title in this same category.

The Donosti Cup's commitment with the girls' football continues for another year: to date, more than 80 teams have already confirmed their participation, including the Benfica, the Liverpool and the Olympique de Lyon.