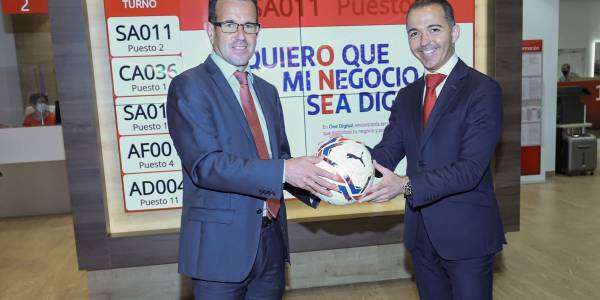 Santander renews the sponsorship with Donosti Cup and becomes main Sponsor of Donosti Masters Cup 2021!
In adittion to being official Sponsor of the Tournament, it will also be Main Sponsor of Donosti Masters Cup and coaches' game.
Banco Santander has renewed the sponsorship agreement with Donosti Cup 2021. This entity is linked to the soccer world and has decided to sponsor Donosti Cup for the second year in a row.

This time, together with being oficial Sponsor of the Tournament, they also become Main sponsor of the Donosti Masters Cup by Santander and Coaches game by Santander.

The veterans Tournament has 3 men categories (+35, 45 y 50) and a women category (+30) to be run this next Saturday, 3rd of July.
The coaches' game will be played on Wednesday at 8.30 at Real Sociedad sports facilities and it is one of the best moments of the Tournament for the coaches attending Donosti Cup. 

In the picture, signing of the agreement with Borja Paniego, Director of Banco Santander in Gipuzkoa Zone and Iñigo Olaizola, founder and director of Donosti Cup.
From the Donosti Cup we thank Santander the support in such a special event.