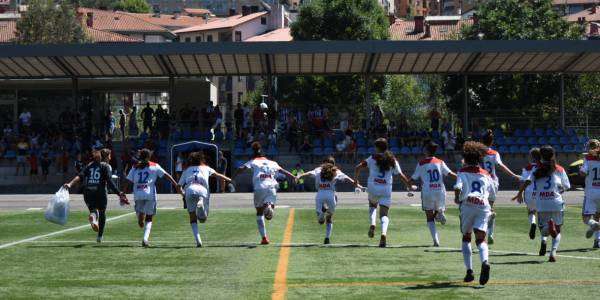 Donosti Cup, following current regulations, will allow spectators to attend matches if healthy measures are fulfilled.
The use of masks, keeping a safe distance and not exceeding the 60% capacity will be the essential requirements for the matches to be held with spectators. 
 
Finally, it will be possible to have spectators at the matches of the Donosti Cup 2021. This past weekend, the Basque Government has authorised the presence of the public at sporting events, as long as a number of healthy measures are fulfilled.

First of all, wearing a mask will be required to access sports facilities. Despite the fact that the matches will be played outdoors and that from 26th June it will not be compulsory to wear a mask, the Donosti Cup has decided to require it as a preventive and safety measure.

Secondly, if the facility is provided with a stand, the public must remain seated, leaving a free seat in the same row between every two people not living together. If they live together, then this free spot is not required. If there is no stand in the facility, spectators will be all over the facility, leaving 1.5m of distance with the nearest person.

Finally, and as the maximum permitted capacity must be 60%, priority will be given to the direct family members of the players who are playing the match at the time. The rest of the club members and fans in general will be allowed to access as long as the established capacity is not exceeded. 

From the Donosti Cup we would like to appeal to all the clubs, especially to their members in charge, and to all family members and supporters, to comply at all times with the aforementioned measures and to follow the instructions of the Covid delegate in the field. This delegate could ask the referee to stop the game if the capacity allowed in the facility is exceed or the rest of the healthy measures are not followed. 

Let participants enjoy football while feeling the support of their loved ones, but always ensuring their safety
Thank you!