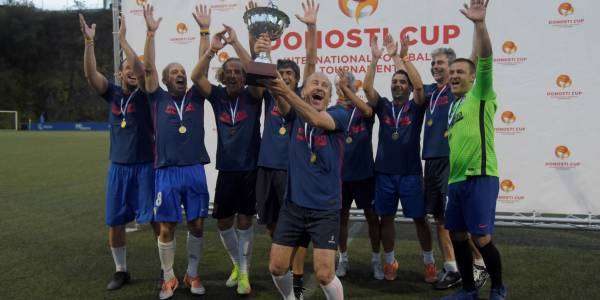 The 2023 Donosti Masters Cup will be held from 2 to 4 June
We are already working on the organization of the 9th edition of the International Veteran Football Tournament "2023 Donosti Masters Cup"
The 9th edition will take place between 2-4 June and it will have three men's categories for over 35, 45 and 50 years old, and one women category for over 30 years old. This International Veteran Football Tournament has already become one of the leading events on the national scene and will bring again together many teams from different nationalities. In the last edition, in 2022, marked by the health crisis, there were 54 teams that participated in the tournament representing France, Mexico, Panama, Uruguay and Argentina, and many teams from different cities of Spain.
The competition will begin on Friday, June 2, in the afternoon and will end on Saturday, June 3, at night. Sunday will be the team's departure day. In the group round all the teams will play a single round league and in the final round will be with eliminatory matches. In total, each team will play a minimum of 4 games, 3 in the 1st round and at least 1 in the final round.
As in previous editions, the teams that wish to do so may arrive to San Sebastián before Friday and carry out some training or play a friendly match.
From the Donosti Cup, we encourage you to participate in this tournament that combines football, tourism, and fun in an incomparable frame such as the city of San Sebastián, which also has a first-rate gastronomy.
All the detailed information about the tournament can be found on the web site www.donostimasterscup.com