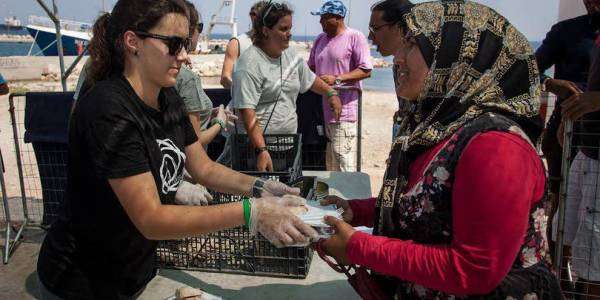 The Donosti Cup Foundation cooperates with Zaporeak, the association feeding Syrian refugees in Greece
The health crisis is causing shocking situations among Syrian refugees caught in Greece
Zaporeak is an Association founded more than 30 years ago in San Sebastian, working to encourage projects joining together gastronomy and solidarity and looking to help needing people and with nutritional problems. Their first project started up in Ethiopia, in Wukro town, together with the Father Angel Olaran. Some years after collaborating with this project in Ethiopia, in 2016, they started to help the refugees escaping from the Syrian war and they got trapped in Greece. That year, they travelled to Lesbos with an important number of volunteers to cook and deliver food among refugees. They serve more than 1,000 food portions and they take care of other needs that refugees living in subhuman conditions have. They organise different consciousness fundraising campaigns in the Basque Country and this way they got to have their own kitchen in Lesbos and they are feeding the refugees for 4 years now.
From the Donosti Cup Foundation, we had a tight relationship with Zaporeak and specially with their responsible, Peio García Amiano. In 2016, we invited a girls' team from Saint Mary School in Wukro (Ethiopia) where Zaporeak developed they first supportive project. Afterwards, we worked with Peio García Amiano on a project to bring a group of young Syrians from the Lesbos refugees' camp to the Donosti Cup, although for different reasons, we did not get to materialise this project until now.
The goal was not easy because our aim was that these Youngs stay in San Sebastian until they became 18 years old, playing in different local football clubs. We will keep trying it.
This time, and considering the call that Zaporeak did to get more founds to keep feeding Syrian refugees at this so delicate moment because of the sanitary crisis devastating all over the world, we wanted to make a contribution to support the great work that this Association does on a really difficult environment.
If someone wants to know Zaporeak deeply and the work they do, we invite you to visit their website: http://zaporeak.eus/en