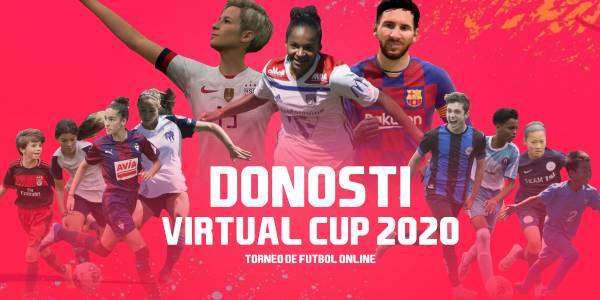 2020 Donosti Virtual Cup: an online Football Tournament!
We are glad to announce that facing the impossibility of holding the 2020 Donosti Cup due to the Covid-19, we have decided to launch the "2020 Donosti Virtual Cup," an online football tournament where we would like to invite all the clubs that were going to participate in the 29 edition of our tournament to 
We do not want to miss our annual meeting with football and for this reason we are proposing this virtual tournament that adapts itself to the current conditions. Moreover, we want to use it to be in touch with all of you.
We would like to gather 680 teams from 30 different countries in all. This is the number of teams we expected in this year's edition.
The entry fee is free and the clubs that were registered in the 2020 Donosti Cup will have priority when registering. There will only be one category for boys and girls from 12 to 18 years old and each club will have the possibility of registering a maximum of 5 players.
If you would like to register your club, please send us an e-mail to info@donosticup.com before next Wednesday 10th June confirming your participation. 
You will then have until Monday, 25th June to send in the names of your 5 players.
To choose the 5 players that will represent your club, you can carry out your own tournament to preselect your own players, you can organise a preselection tournament or choose the best Play Station players of your club at your own discretion. We know that organising a preselection tournament can be a bit more complicated, but we believe it could also be beneficial as your players would feel more a part of the club representing team in this e-tournament and they wold be more involved in the Donosti Virtual Cup 2020.
From 1st to 8th July, there will be the knockout rounds, on 9th July the quarter finals, on 10th July the semi-finals, and on Saturday 11th the Grand Finale.
We would like to make the tournament as appealing as possible so we are working on different initiatives: skill challenges, raffles, semi-finals and Grand Finale on streaming, with the hopes of getting the semi-finalists to play against Spanish LaLiga football players, etc.

The winning team will receive a trophy that will be given at a special event held during the 2021 Donosti Cup, and the entry fee in the next edition of the tournament will be free.