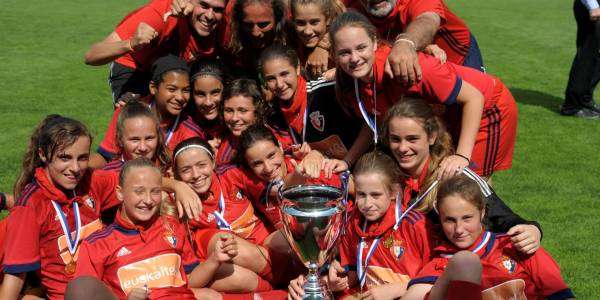 Osasuna, going for broke the rise to Primera Iberdrola on the last game, comes back to the Donosti Cup with three girls' teams
Their first participation was in 1992 where they won the B16 and B12 categories and were seconds in B19. In 2018, they participated with a girls' team (G14) and won the tournament after beating the Olympique de Lyon in the final. This year, they come back with 3 girls' teams and maybe some for boys too.
The level in girls' football keeps growing at big steps. One of the last incorporations are the Osasuna Foundation, which are going to participate in the next edition with 3 girls' teams: G12, G14 y G17. 
We want to outline that their first team is this season in the Reto Iberdrola and they got to the last match day with possibilities of rising after last week-end victory against the Atletico de Madrid "B" where the red team prevailed in the last minutes of a very tight game and added three points that enabled them to get to the last match day of the league with possibilities of rising to Primera Iberdrola. The Patri Zugasti goal from penalties three minutes to the final was the key for their victory. In two weeks, they will play against the Racing Feminas although they will have to wait the Alaves, first on the ranking, does not win their game.
As for their track-record along the Donosti Cup, this is going to be their third participation. First one was in 1992, just when the first edition, and they won the B16 and B12 categories and runners-up in the B19. The second participation, first time with a girls' team, was in 2018. That time, they also won the final against the Olympique de Lyon with the G14 team. It was a touching game where the red players got to score the only goal of the game that gave them the victory.
This year, they will participate with three girls' teams, although it is also possible that they bring some boys' team too.
From the Donosti Cup, we give them a warm welcome and wish them good luck in the tournament.