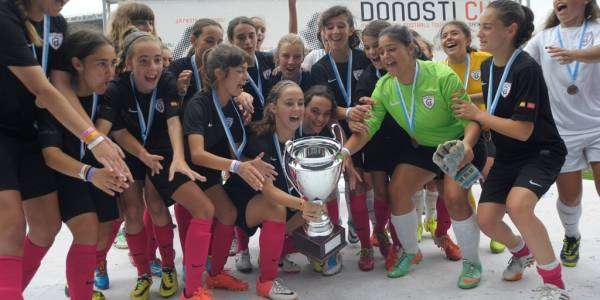 Madrid CFF, shining brightly in Primera Iberdrola and in the semifinals of the Copa de la Reina, will participate for the ninth consecutive year in the Donosti Cup
Founded in 2010, the club has one of the largest youth academies in Europe and has won the Donosti Cup three times
Madrid Club de Fútbol Femenino is an institution in the Donosti Cup. It was created from nothing in 2010 by Alfredo Ulloa, President of the entity, and after passing at lightning speed by all the regional categories of Madrid, they achieved the glory in the 2017/2018 season when they were promoted to the highest category of national football and they keep getting higher day by day and improving year by year.
After two irregular seasons, in the current one, they became the revelation team of the championship, where they are shining with their own light in historic matches. At the moment, they are in the sixth position, although for several days they have been third. But the biggest milestone of this current season has been their qualification for the Semifinals of the Copa de la Reina after beating the newly released Real Madrid in the quarterfinals.  
In 2015, they received 17 awards at the Madrid Football Gala and they are the second Spanish club that contributes with more players to the U17 and U19 national teams, only behind FC Barcelona.
Their journey to the Donosti Cup began in 2012, only two years after the club was born. Since then, they have not missed their appointment with our tournament and they have participated with more than 25 teams in different categories. In the last eight years, they have already played no more and no less than 9 finals with a balance of 3 champion titles and 6 runner-up titles.
This year, they will return to the Donosti Cup with five girls' teams in different categories and it would not be unusual to see them once again in one of the finals of the tournament. 
From the Donosti Cup, we thank them for their loyalty and we wish them good luck in the tournament.