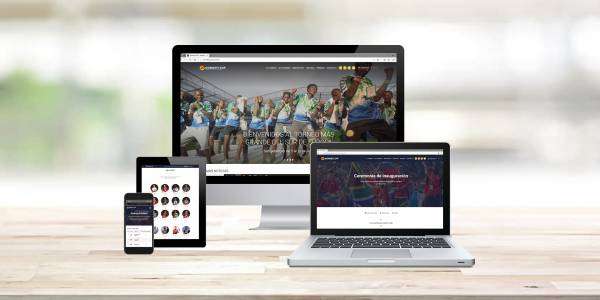 We launch a new, more interactive and modern website, 5 months before the beginning of the tournament!
Five months before the beginning of the tournament, we have redesigned the website in order to offer you a more interactive website that presents many novelties regarding the content.
We welcome you with a new "Home", with a completely renewed look where you will find the latest information in a very accessible way. Here you can find the new news and new videos that we publish, the main events, different banners, the features, etc.
In the "Tournament" section, the main novelty is the "Fields" page, where you can see, on a map, all the fields in which the next edition's matches are going to be played.
The "Activities" section is the one that changes the most on its design, each Activity has its own page with information, photos and videos of the last edition. The activities program of each day is in a very graphic way with links to the main activities.
All the information regarding prices and accommodations bookings and transportation is now gathered under the "ENTRY" section. Here you will find the entry form, with a renewed design, all the information about prices and what they include, all the Accommodation Offer as well as a very complete page of each one.
For the most curious, the "History" section includes, in addition to a brief chronological tour from the foundation of the tournament and the most important awards received in these years, the fidelity ranking, the winners ranking, a list of the represented countries since the first edition, and the names of the TOP players and clubs.
In the "Awards" section you can see in a very graphic and colorful way, the 2019 Winners list, the Best players, the 2019 Dream team, with the award of the Best Club and the Best Supporter of the last edition and the historic winner list in which we are still working.
And one of the sections that changes a lot is "My Team info" that appears highlighted on the right side of the home, close to the icons of Social Networks, and where the registered teams can see all the data of their bookings, the budget and the payments made. In this section, you will have to register the players and coaching staff once you put the colors of your uniform.
We hope you will like the new website and you will find it easier to access to all the information. If so, do not forget to leave your comments on social networks!!