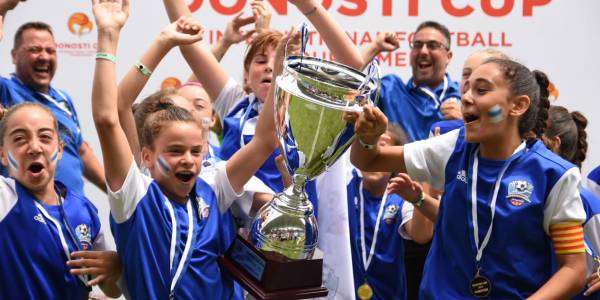 Impressionant returns to the Donosti Cup ready to revalidate the champions' title
The Catalan team will participate for the second time in the tournament after being the revelation team in 2019
As we announced last week, we continue receiving many entries to participate in the 2021 Donosti Cup especially from Spanish teams both male and female.
One of the last to arrive has been the Impressionant, Catalan girls' team that gave the surprise in 2019 winning the G12 category in their first participation. It is not usual for a team to win a title in their first participation, but in this case the name already warned of the level of the team. They were in a very difficult group along with Madrid CFF and Olympique Lyonnais, but they already showed their aim by finishing first in the groups' round. In the champions' round they eliminated a Basque team, Amara Berri, and two North American teams, Team ISL and HP Elite. In the final, held at the Sport city of the Real Sociedad, they beat Madrid CFF 2-4 in a very exciting match.
Their coach Santi Rodríguez explains that "it's a group of lifelong friends who now play for top-level clubs such as FC Barcelona and Espanyol. For those of us who work in girls' football is wonderful to see how these players are evolving and how far they are getting". One of the team's references is the striker Celia Segura, a player who plays nowadays for FC Barcelona's youth team and who scored two goals in the final of the 2019 Donosti Cup, one of them with a bicycle kick.
This year, they will participate in the G14 category with a very similar squad to the one of 2019 and will have to measure themselves again against teams like Olympique Lyonnais or Madrid CFF who are waiting for them with a desire for revenge.
The Donosti Cup gives them a warm welcome and wish them good luck in the tournament.