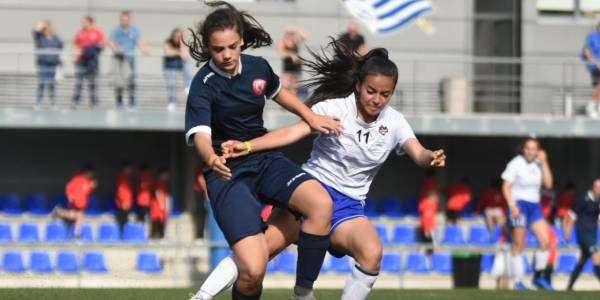 Girls' football keeps growing in the Donosti Cup
The 2020 Donsoti Cup will have 5 girls' categories because we are going to release the G10
On the one hand, we have extended the number of categories because in 2020, we are going to release the G10 category for girls born in 2010 and 2011. This way, there will be a total of 5 girls' categories: G18, G16, G14, G12 and G10. The first three, will be played 11-a-side and the last two, 8-a-side. On the other hand, we wait again a high participation of girls teams and a constant progressed level. In the last edition, more than 120 girls' teams participated in the tournament and the aim of the Organisation is that this figure keeps growing and that the amount of boys' and girls' teams achieves a balance.
By now, 48 teams from Spain, France, USA, Portugal and Mexico have already confirmed their participation, and we hope to receive more entries from interested teams shortly.
In the last edition, teams of the level of Olympique de Lyon, Benfica, Madrid CFF, Levante, Eibar, Alaves, Sant Gabriel,  Añorga KE, Wisconsin International, Futfem Talent, Santa Monica United, San Diego Surf, Ath. Villafranca and a long etc. participated in the tournament.
Many of these teams are going to repeat their participation in the Donosti Cup and the Organisation is also waiting for the confirmation of two other very renowned teams in the European panorama.
From the Donosti Cup, we encourage all the girls' teams to leave a special experience together with girls' teams from different nationalities.
We will be waiting for you!