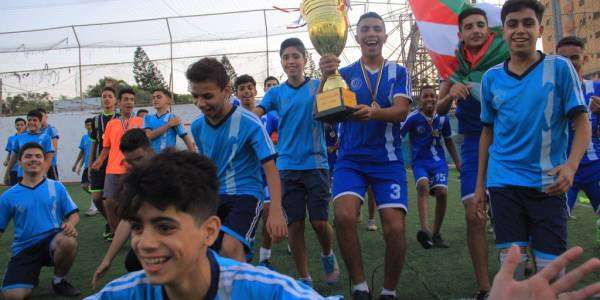 Al Helal Academy wins the Gaza Cup and will attend the Donosti Cup 2022 as a guest team
The tournament was created in 2020 to encourage young people from Gaza who were going to travel to San Sebastian and could not do so because of the pandemic
The soccer academy "Al Helal" won yesterday the Gaza Cup, a tournament that has been held during the month of September and in which 30 teams from all over the region participated.
The tournament, organized by the Palestinian Football Association, began two years ago when several teams from Gaza that were going to participate in the Donosti Cup could not do so because of the pandemic. 
Upon learning of the existence of this tournament, the director of the Donosti Cup Foundation Iñigo Olaizola contacted the Palestinian Football Association and agreed that the prize for the winning team of the Gaza Cup would be to participate in the 2022 Donosti Cup.
Al Helal Academy is the first academy recognized by the Palestinian Football Association in the Gaza Strip, and also received the honor from the Palestinian Football Association as the best academy in 2019 at the technical and sporting level.
The final of the tournament was played yesterday, Sunday, at Yarmouk Stadium in the center of Gaza City and Al Helal Academy won 2-1 against Al-Wahda Academy.
The Al Helal Academy's B19 team will therefore participate as a guest team in the 30th anniversary of the Donosti Cup to be held in San Sebastian from 3 to 9 July.