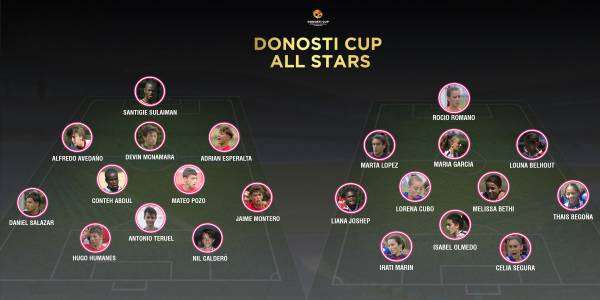 What did you think about the boys' and girls' All Star teams chosen in the last Donosti Cup?
In the last edition of the Donosti Cup, the boys' and girls' All Star teams were chosen among the teams that played the finals for the first time in the history of the tournament.
In the last edition, 2 new awards were established, "Best Club" and "Best Supporters", and it was decided to start up the election of the boys' and girls' All Star teams of each edition.
When this idea was suggested, different options were considered to decide the election system, and finally, we decided to base that election on the teams reaching the finals.
It is evident that in a tournament with almost 10,000 players of different ages and playing in 40 different venues, it is almost impossible to make an objective selection to create the best boys' and girls' All Star teams of each edition.
That it is why, we considered that the right thing would be to base that selection of players on the teams that were classified for the finals.
In each modality, 8 and 11 a side, there would be 2 responsible to choose the best player of each final. And afterwards, the 4 responsible of the election should shape each All Star team. 
We know the election of the All Star team in a tournament like the Donosti Cup is not going to please all the teams participating in the tournament, but the one you can see on the picture was the election that the responsible in charge made.

We hope that you like the initiative and congratulations! If you where one of the selected ones.