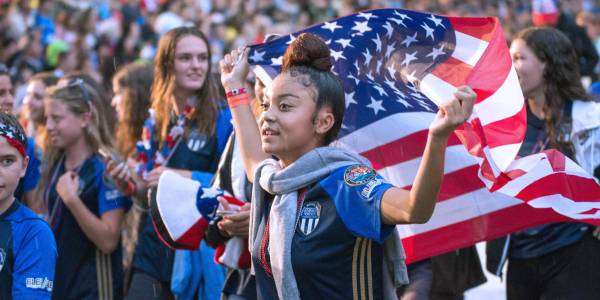 More than 70 teams from the United States have already confirmed their participation
The first time, in 1997, the United States were represented by the team Silverwings. Since then, every year more and more North American teams dare to cross the Atlantic Ocean to live the soccer experience of the Donosti Cup.
The number of participant teams has grown significantly in the last years, leading to the United States to the position of foreign countries with the highest number of participating teams; In 2017 there were more than 40 teams, in 2018, 53, and in the past edition, all the records were broken with 72 teams.
This year, only two months after the deadline for entries, already 74 teams have confirmed their participation in the 28 edition of the tournament. The prompt number of entries and the interest that many other clubs have showed, makes us foresee that the United States will beat a new historical record.
By now, registered teams will represent the States of Santa Monica, Seattle, Illinois, Magnolia, Missouri, Washington, California, Los Angeles, Portland, New York and Wisconsin among others.
70% of the teams will compete in masculine categories, whereas the 30% will take part in feminine categories.
Among all the confirmed teams, 72% have already participated in the tournament and a 28% will come to the Donosti Cup in 2020 for the very first time.
From the organization, thank all those teams that will travel thousands of miles to come to the tournament, and we welcome warmly all the American teams to this edition.