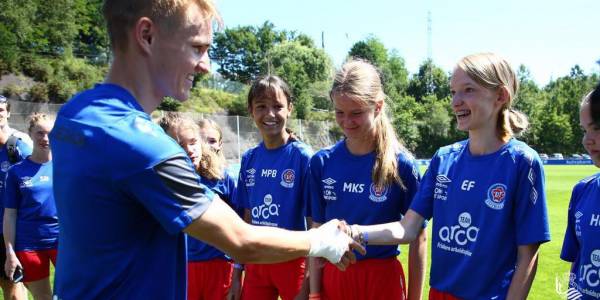 Odegaard, who hosted the Donosti Cup, returns to the Bernabéu
The young Norwegian player Martin Odegaard, who is playing for Real Sociedad this season as a loan from Real Madrid, works against the clock to recover himself on time from his recent ankle injury and be able to play next Saturday at the Bernabeu stadium (21:00 hours) against Real Madrid.
This summer, Odegaard acted as a host of the Donosti Cup and he was very kind receiving a Norwegian girls' team that was participating in the tournament. The meeting took place at the Real Sociedad facilities and the team he received was Lorenskog. It was a surprise for the players as the coaches told them that they were going to watch a Real Sociedad training, but what they couldn't imagine is that at the end of the training, Odegaard himself was going to greet them personally. The Norwegian player was very kind with the players and he asked them about their participation in the Donosti Cup. After greeting each player personally, the usual photo session arrived, the Norwegian players were very happy.
The Donosti Cup wants to thank Odegaard for this gesture while we wish him a recovery on time so that he can defend the colors of the Real Sociedad this next Saturday at the Bernabeu Stadium in their league match against Real Madrid.