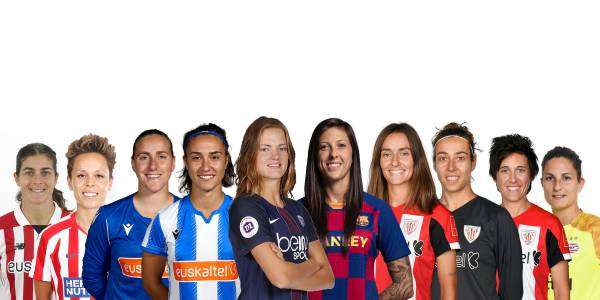 Also know the players who have participated in the Donosti Cup and have reached the top of women's football
In women's football we could also make a luxury lineup with players like Quiñones, Irene Paredes, Amanda, Jeny Hermoso, Nahikari Garcia, Lucia Marte, Erika Vazquez, Nerea Eizagirre and more.
Since the women's Open category was created in the 3rd edition of the Donosti Cup, there have been many top-level women's clubs that have participated in the different editions of the tournament.
Although they have been many, we cannot stop naming clubs such as Olympique de Lyon, PSG, Ath Madrid, FC Barcelona, Manchester City, Benfica, Selection of Azerbayan, Madrid CFF, Espanyol, Rayo Vallecano, Sant Gabriel, Oiarzun, Albacete, Santa Teresa, Osasuna, Alaves or Eibar.
Most of these clubs have been proclaimed champions of the tournament on many editions and in different categories. And many players have made their debut in the highest categories of national or international women's football and even in the Spanish National Team have passed through its ranks.
Starting with the last ones, players who have participated in the Donosti Cup and have played in the Spanish National Team are the goalkeeper Mariasun Quiñones, who participated in the tournament in many editions with CD Mariño, Irene Paredes, who played with Urola, Jeny Hermoso, Amanda and Bea Beltrán, who did it with the Ath Madrid, Lucía Rodriguez who participated with Madrid CFF, Erika Vazquez, who played with Oiartzun or Nahikari Garcia and Nerea Eizaguirre who participated in many editions of the Donosti Cup with Añorga KKE.
Many players have reached to the highest categories of national or international football. We are sure that we leave some of them and, if so, we apologize for it. But these are the players that we know that they have made their debut in 1st division in the main European leagues.
At Real Sociedad, Aintzane Enzinas, Maialen Zelaia, Ainara Manterola, Chini Pizarro, Leire Baños, Ane Etxazarreta, Sara Olaizola, Barbara Latorre, Cecilia and Carla Bautista have played, or are playing.
At the Ath Madrid, Noelia Gil, Rocío Ruiz and Nagore Calderón. Paola Ulloa and Lorena Navarro continue playing at Madrid CFF.
At Espaynol, Cristina Baudet, Leti Sevilla, Elena, Julve, Kenny Thompson and Ainhoa Marín. At FC Barcelona, Candela Andujar.
At Rayo Vallecano, Pilar Garcia. At the Granadilla, Eva Llamas. At Sant Gabriel, who played 5 seasons in 1st Division: Adoracion Apolo, Cristina Gonzalez, Carol Miranda or Marta Vilagrasa. At Logroño, Raquel Garcia.
At Ajax from Amsterdam, the goalkeeper Eli Sarasola. At the Girondins from Bordeaux, Sophie Istillard. And at Tottenham, Lucia Marte.
We are sure that there are many more players who have also reached the top of women's football. If so, we would appreciate it if you provided us with information to update it on our website. Nothing makes us more excited than knowing that some of the players who have played through our tournament have managed, surely, with a lot of effort, to reach to 1st division clubs.
Below, you can see the list of these players with the clubs they participated with in the Donosti Cup.