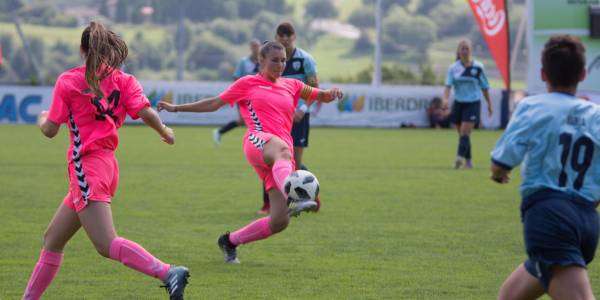 EF Manu Lanzarote returns to the Donosti Cup with three girls' teams
The Espanyol player Manu Lanzarote inaugurated this project in 2013 in Tarrasa and in 2018 they were runners-up in the Donosti Cup in the G18 category.
We are now entering the final stretch of registrations to participate in the 2021 Donosti Cup. One of the last entries we have received belongs to the Manu Lanzarote girls' football School, which will participate for the second year in the Donosti Cup.
RCD Espanyol ex-player Manu Lanzarote launched this project in 2013: "it is an exciting project and we believe it has a great future". Lanza was committed from the beginning to sport and training through its values, and time is proving him right. Each season the school has more girls and has opened another branch in Sant Adriá del Besós. 
In their debut in the Donosti Cup, in 2018, they participated in the G18 category and got to reach the final. It was an exciting final in which they had to measure themselves against another Catalan team, the Futfem Talent Academy, which they failed to beat having to settle for the title of runners-up of the Donosti Cup.
This time, they will participate in the 2021 Donosti Cup with three teams, 2G14 and 1G12, and they will surely make again a championship at least as brilliant as in 2018.
From the Donosti Cup we give them a warm welcome and wish them good luck in the tournament.