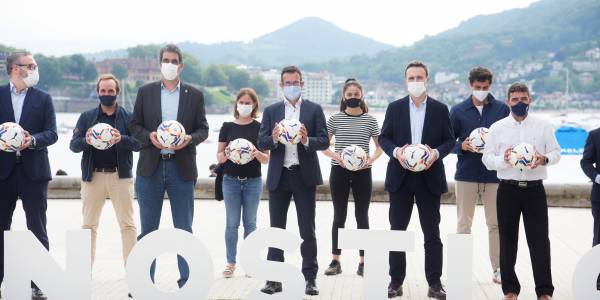 The 29th edition of the Donosti Cup has been officially inaugurated
The official presentation has been run at the City Hall of San Sebastián
The Donosti Cup is just around the corner. This afternoon, the City Hall of San Sebastián has hosted the official presentation of a new edition of the Tournament returns with a more inclusive offer than ever, as it includes grassroots, inclusive, veteran and university football. All the events will be held from 1 to 10 July. Returning is already a success.

The mayor of the city, Eneko Goia, together with the Councillor for Economic Promotion, Tourism and the Environment, Javier Larrañaga, have sponsored an event where a girl and a boy from each of the four categories were presented.

A more national than international edition, but with the same values as always and in which the organisation has included important health measures so that everyone can enjoy the sport.

The Donosti Masters Cup will be the first of the events, with three men's categories and one women category, and almost 40 teams during the first weekend of July. The Donosti Cup will follow, and with it, the rest of the options. 

The Donosti Authentics Cup, the inclusive football tournament of the Donosti Cup, will bring together in its first edition four teams (Levante, SD Eibar and 2 teams from the Real Sociedad Foundation) and will allow its participants to feel like in an international event.

Also, this year the tournament will have a university category, with men and women U25s, aiming to attract, in the mid and long term, national and international university teams. In fact, thanks to the agreement with the American University CIS, the university will grant elite sports scholarships to 12 participants in the Donosti Cup, who will be selected during the tournament itself.

And of course, the Donosti Cup, the biggest grassroot football party, allowing teams to enjoy among the 30 venues grouped in 5 region bubbles. The spectators will be allowed to access to the facilities but always under strict healthy measures. In fact, and due to the agreement signed with LaLiga, all participants will have to pass an antigen test to attend the Tournament.

Welcome to Donosti Cup 2021!