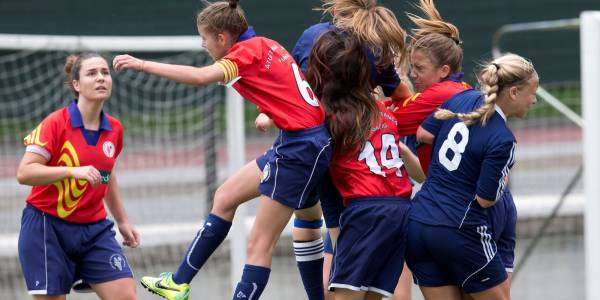 Fourth participation of the Catalan club Atlétic Vilafranca in the Donosti Cup!
The Catalan club, runner-up in the tournament in 2014, will participate in the next edition with three girls' teams
Girls' football keeps growing in the 2021 Donosti Cup. On this occasion, we are pleased to announce the participation of Atlétic Vilafranca, a Catalan club from Vilafranca del Penedés that knows our tournament well.
Their first participation dates back to 2008, when they came with two girls' teams. Several years later, in 2014, they returned to the tournament with another two girls' teams and qualified for the final of the G18 category. In that final held at the Anoeta Stadium, they faced another Catalan club, Sant Gabriel. It was a hard-fought match, but in the end, the Vilafranca del Penedés girls lost 2-0 and had to settle for the runner-up title and the pride of having played in a 1st division stadium.  In 2019, they came back again to the tournament with two girls' teams.
In this edition, they will come with three teams and will participate in G14, G17 and G19 categories under the order of the girls' football coordinator, Raimon Llosas.
The Donosti Cup gives them a warm welcome and wish them good luck in the tournament.