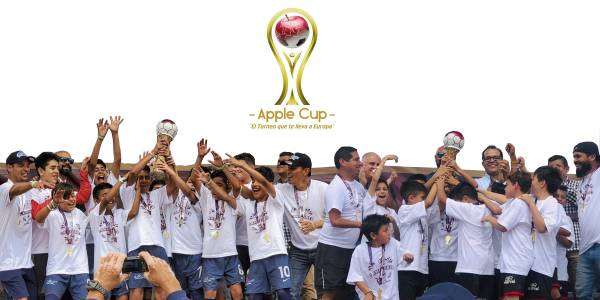 Congratulations to Red Blacks from Monterrey and Playas Elementary from Tijuana, winners of the 2020 Apple Cup
For the third consecutive year, the winners of the International Football Tournament Apple Cup will participate in the Donosti Cup
In 2017, the Apple Cup started, an International Football Tournament for young people celebrated in March in Mexico and aimed at 2010 and 2008 categories. The director, Diego Mejia, participated in a good number of editions of the Donosti Cup; at the beginning, as a player with the Academia Chelona from El Salvador, and afterwards, as a coach of the Real Sociedad Cuauhtemoc. Thanks to this relationship with our tournament, Diego Mejia proposed the award of participating in the Donosti Cup to the winners of his tournament. This way, there are already a few clubs that participated as winners of the Donosti Cup: Olimpia FC from Honduras, Independiente Chihuahua, All Stars CDMX and Instituto Patria, all of them from Mexico.
The third edition of the Apple Cup was hold last week-end in the city of Gomez Palacio, Durango, and more than 50 teams from different countries participated. After an intense football week-end, the winners of the 2010 category were the Red Blacks from Monterrey, Nuevo Leon, and Playas Elementary from Tijuana, Baja California, winners of the 2008 category. As the director of the tournament told us, "a new history is going to start to these two teams".
The organisers of the Apple Cup want to outline the total support of the Municipal President Mari Vitela and the town council Gomez Palacio, Durango.
From the Donosti Cup, we want to congratulate Red Blacks and Playas Elementary for the great tournament made and we will be waiting for them in July at the Donosti Cup.