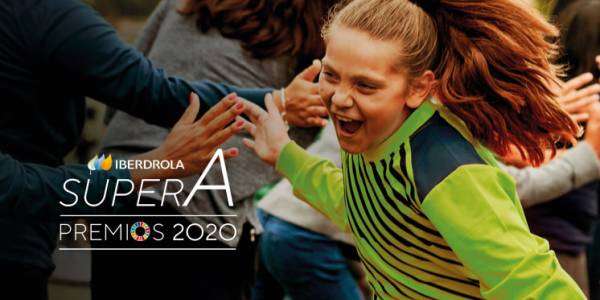 We are finalists for "Iberdrola SuperA Awards" for its promotion of women's sport!!!
Donosti Cup is one of the twelve projects selected from the 406 candidates submitted. The winners will be known next November.
Donosti Cup has turned out to be one of the twelve projects selected and has gone through the final round of "Iberdrola SuperA Awards", which have been organized with the aim of rewarding sport projects and initiatives that promote women's sport. The deadline for submitting candidatures ended on August 31st and since then, a technical commission has selected the twelve finalist projects, divided in six categories, which will be evaluated by the honor jury. In total, 406 applications have been submitted in this period. The final winners in each of the six categories will receive a financial prize of 50,000 euros to continue promoting the best initiatives developed in Spain in favor of gender equality and the empowerment of women through sports practice.
The jury that will decide the winners will be composed by the following thirteen athletes: Amanda Sampedro, Carolina Marín, Conchita Martinez, Javier Fernández, Jesús Carballo, Manu Carreño, Marta Arce, Paloma del Río, Sandra Sánchez, Silvia Navarro, Talant Dujshebaev, Teresa Perales and Vicente del Bosque.
The winners will be revealed at the "Iberdrola SuperA Awards" ceremony that will take place, if the pandemic permits it, next November at Iberdrola's offices in Madrid. 
Women's football began its journey in the Donosti Cup twenty-five years ago, back in 1994, a few years after the first edition of Women's National League in Spain and Women's Football World Cup were created. On this occasion, there was only one category with no age limit and 8 teams from Spain, France and Portugal participated. The winner of that historic edition was Añorga KKE who beat Benfica in a final held at Anoeta Mini-Stadium. After the success of that first edition, women's football became strategic for Donosti Cup and a special program was launched to develop the participation of more and more women's teams and clubs from different nationalities. Currently, the tournament has five categories with more than 125 teams from 10 different countries taking part at Donosti Cup. In these 25 years, more than 1,500 women's teams and 25,000 players have already participated at the tournament. 
 
In addition to the number of teams, the competitive level has also increased significantly. In fact, foreign clubs such as Olympique de Lyon, PSG, Manchester City or Benfica itself have taken part in the tournament, which participated in the first and last editions held in 2019. At national level, it is increasingly common to see club participants from Iberdrola League such as FC Barcelona, Atl Madrid, Levante, Rayo Vallecano, Español, Madrid CFF or Eibar. There are also participating teams from Iberdrola Challenge League such as Alaves, Osasuna, Zaragoza, Tacuense, SE Aem  or from  1st National League such as Oiarzun, Añorga, Tolosa and San Gabriel. 
More than 50 players who have been part of the tournament have reached the top of national and international football. This is the case of current international senior players like Irene Paredes, Jennifer Hermoso, Amanda Sampedro, Mariasun Quiñones, Nahikari Garcia, Erika Vazquez, Miriam Diéguez, Ane Bergara, Eli Sarasola, Eli Capa, María Vargas or Ainhoa Vicente. In the Iberdrola League there are currently more than 40 players who have participated in Donosti Cup and as a curiosity, last season ten players who had played in Donosti Cup were champions of "Copa de la Reina" playing for Real Sociedad: Mariasun Quiñones, Nahikari García, Nerea Eizagirre, Bea Beltrán, Ane Etxezarreta, Leire Baños, Sandra Ramajo, Ohiana Alday, Carla Bautista and Sara Olaizola.
 
On the social level, Donosti Cup has invited many women's teams with no economic resources, taking care of all the expenses of the trip and staying in San Sebastián. Thanks to this aid program, women's teams from India, Nepal, Zambia, Palestine, Ethiopia, Uganda, Bolivia or Colombia have been able to participate in the tournament, promoting women's sport and helping to fight against early marriage, harassment, poverty and political conflicts.
To help promote sports for over 30 years old players, Donosti Cup created in 2019 the "Masters" category. Only five teams participated in the first edition but the experience was very positive and Donosti Cup is completely sure that this number will increase in the following editions. The first champion last year was SD Eibar.
For the Donosti Cup it is great news to be finalists for the "Iberdrola SuperA Awards", and with no doubt it is a motivation to continue working in favor of women's football. There is still a long way to go to achieve full equality and from the Donosti Cup we are ready to take all the necessary steps to achieve full equality.