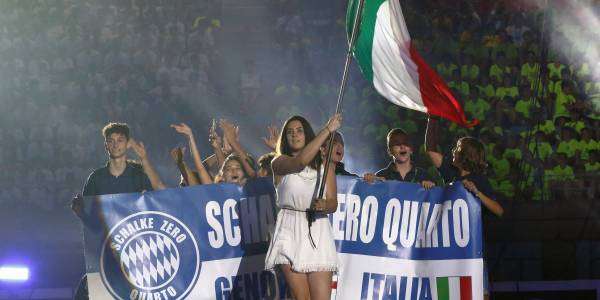 Schalke Zero Quarto confirms its participation in the 2021 Donosti Cup!
It will be the fourth participation of this Italian club that visited us for the first time in 2016 coinciding with the 25th anniversary of the Donosti Cup.
Italy has been one of the countries participating in all the editions of the Donosti Cup. In the 1st edition, there was already an Italian representative, AC Trento, and since then, this country has been present in all the editions of the tournament. In the almost 30 years of the tournament's history, more than 20 Italian clubs have visited us and Schalke Zero Quarto has already participated four times.
This club from Genova came for the first time to the Donosti Cup in 2016 coinciding with the 25th anniversary of the tournament. Since then, it has visited us on three other editions and it has already confirmed its participation in the 2021 Donosti Cup.
This club was founded on May 4, 1904, as Westfalia Schalke by a group of high school students and wore the colors red and yellow. In 1924, they took the name FC Schalke Zero Quarto and adopted the familiar blue and white colors from which they would get their second nickname - Die Königsblauen (in English: The Royal Blues). The year after, the club became the dominant local club, based on a short passing style of play and a lot of ball movement.
Schalke Zero Quarto is usually one of the first clubs to get registered in the tournament and in fact in 2020 was the first to do so. Their behavior both on and off the field is usually exemplary and that is why they are one of the most loved clubs in the Donosti Cup. They are always accompanied by a loyal fan family that never stops cheering on their players.
This year, they will participate in the B19 category in which, as a novelty in this edition, players from three different years will be able to play: 2002, 2003 and 2004. The reason, as the last edition was cancelled, we wanted to offer the 2002 generation that was going to participate last year for the last time in the tournament, to do it this year.
They will arrive several days earlier to San Sebastian to do some training and to be well prepared to the tournament.
From the Donosti Cup, we give them a warm welcome and thank them once again for their confidence in our tournament.