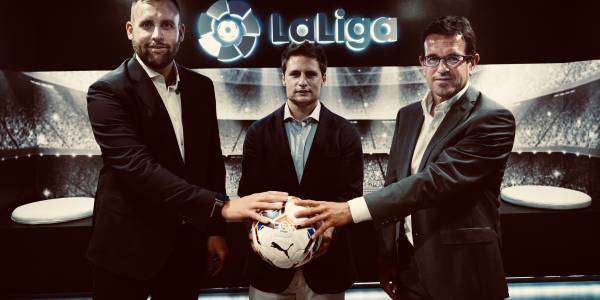 LaLiga 2021 Donosti Cup sponsor!
The agreement was signed yesterday in Madrid and it considers four courses of action, the advice on covid protocols and the management of antigen tests stand out among others.
LaLiga wants to show their support to the Donosti Cup returns after the 2020 cancellation because of the pandemic. This edition is a challenge for the organisation team of the tournament and having the strategic support of LaLiga is a very important backing.
The agreement was signed yesterday at LaLiga headquarters in Madrid and it considers a few actions. First of all, the advice on covid protocols, which will be a key this edition.  
LaLiga gave to the organisation team all the information about the protocol applied during the season and moreover, they acquired 4,500 antigen tests that will be sent to all the clubs participating in the tournament. The Donosti Cup protocol requires to show a test done 48 hours before the beginning of the tournament.
On the other hand, and thanks to this agreement, LaLiga will be during the tournament in the capital of Guipuzcoa because it is foreseen to have an exhibition at the Fan Zone of the tournament.
LaLiga is going to sponsor the "Future supporters" and "Fair Play" awards, which intend to encourage the Sports behaviour of Young people during the competition.
Another agreement is the launch of the "Donosti Authentics Cup", a tournament for mental disability players' teams the organisation of the tournament was working on for long time ago. By now, the participation of the Real Sociedad, Eibar and Levante is confirmed, and we are waiting to have a fourth participating team also in LaLiga Genuine. Finally, the agreement includes also the live broadcast of one of the 2021 Donosti Cup finals through LaLiga Sports TV that have more than 1,5 M of users.