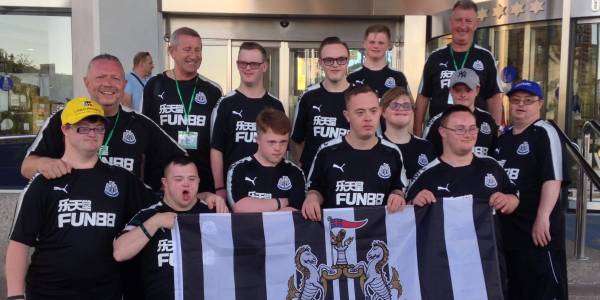 The English Newcastle confirm their participation in the Donosti Authentics' Cup!
The Donosti Authentics' Cup will be from 6 to 8 July and it is addressed to teams made of mental disability players.
In the 2011-2012 season, the prestigious English club Newcastle United started their task in favour of inclusive football. Nowadays, they already have 23 teams for young people and adults, meeting all the types of disability recognised in the English Football Federation.

In the Donosti Authentics' Cup, they will participate with their team made of Down Syndrome players. They participated in the Costa Blanca Cup, in Benidorm, in 2017, with the same team; and last year, they came back to Spain to play a friendly game against the Malaga CF.

As Reggie Dornan, responsible for the Foundation, says, this team has a very proactive group of parents that always travel with the team to all the games they play in England, and also to all the trips they make to other countries. The 16 players coming to San Sebastian will have a good number of parents with them.

We are tremendously proud to have this team from the Newcastle United in the 1st edition of the Donosti Authentics' Cup. They are doing a big task in favour of inclusive football for many years now.

We want to remind that this Tournament for teams made of players with mental disability is going to be from 6 to 8 July and that the list of teams you can find below have already confirmed their participation: Real Sociedad, Eibar, Ath Bilbao and Bayonne inclusive football association sending 3 teams.