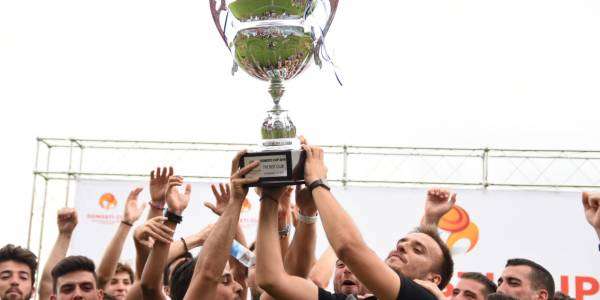 PA Team, "Best club" of the tournament in 2019, confirm their participation in the 2021 Donosti Cup!
This Professional Academy of Madrid added three championship titles, three MVP trophies and got the "Best club" award given by the Donosti Cup in 2019. 
We continue receiving new entries for the 2021 Donosti Cup. On this occasion we are pleased to announce the participation of a Professional academy from Madrid that in the last Donosti Cup held in 2019 was proclaimed "Best club of the tournament" after being champions in three categories, B12, B11 and B10, and achieving three MVP awards: Hugo Humanes in the B12 category, Gabriel Municio in B11 and Alvaro Barral in B10.
This academy directed by Alejandro Diaz de la Rosa, came for the first time to San Sebastian in 2017 with 3 teams and they already showed a great sporting and human level. In 2018, after the fantastic experience of the previous year, they repeated the participation with 8 teams getting to play three finals and proclaiming themselves champions in two of them; in B13 and B10.  
In this next edition, they will participate in all the boys' categories from 10 to 16 years old and their intention is to debut also in the girls' categories with 2 teams. Surely, one more year we will enjoy again with the magnificent football they practice and it would not be strange to see them playing a final.
PA Team offers to boys and girls the opportunity to learn and improve the concepts of modern football. Their mission is to provide players with the basic concepts of football so that they can face, with guarantees of success, the sporting challenges they will face in the future. To this end, they have international agreements to offer sports experiences with a comprehensive education and optimal sports-cultural training. In addition, they want to pass on the values that sport and PA Team represent: tolerance, respect, solidarity, friendship, fair play, integration, effort and happiness.
The Donosti Cup gives them a warm welcome and wish them good luck in the tournament and we hope they will have a good debut in the girls' categories.