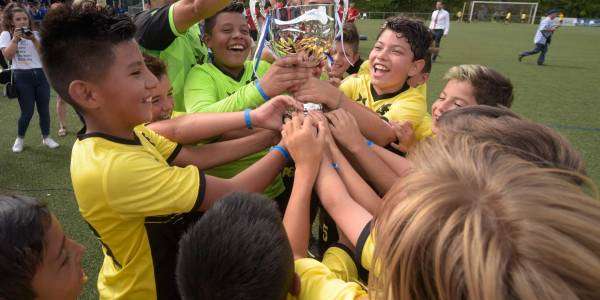 The Apple Cup chooses again the Donosti Cup to reward its champions
The third edition of the International Football Tournament "Apple Cup" that will be held in the month of March in Gomez Esteban Durango, Mexico, has already been officially presented. This tournament has chosen once again the Donosti Cup to reward its champions. This way, the winning teams of B11 and B12 categories will be able to live the experience of traveling to Spain to participate in the biggest tournament in Southern Europe: the Donosti Cup.
Iñigo Olaizola, the director of the Donosti Cup, who took part in the presentation by video-conference, wanted to congratulate the organizers of the Apple Cup for having consolidated this tournament, and thanked them for choosing the Donosti Cup for another year to reward the winners.
In the first edition of the Apple Cup, the winner who participated in the Donosti Cup was Independiente Chihuahua and they played in the B10 category.
In the last edition, All Stars, Independiente Chihuahua and Instituto Patria won the Apple Cup and came to the Donosti Cup. The All Stars club managed to reach the final of the Europa League in the B10 category, where it was runner-up after facing the team Texas Gold from United States. The Instituto Patria and the Independiente Chihuahua reached the quarterfinals in B12 and B10 categories respectively.
From the Donosti Cup, we encourage all Mexican teams to participate in the 2020 Apple Cup and one more year we will receive the teams that are proclaimed champions with the open arms.