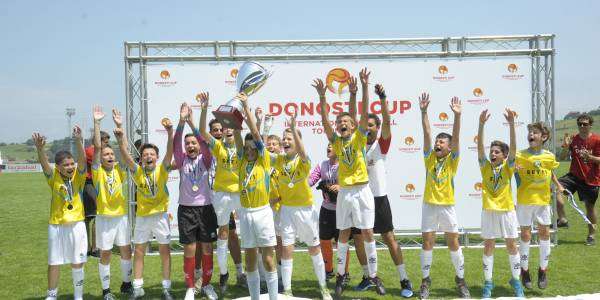 The Sports Association Set11 Esports returns to the Donosti Cup with teams from Catalonia and the Balearic Islands!
This will be their fourth consecutive participation and they will do so with teams in all boys' categories and in three of the six girls' categories.
We keep receiving new entries for the 2021 Donosti Cup. This time, it corresponds to one of the biggest delegations of this tournament. This is the Catalan association "Set11 Esports" that will participate for their fourth consecutive year in the Donosti Cup.
SET 11 Esports was created in 2006 by a group of professionals with experience in the management of sports centers and development of youth activities with a great personal motivation to offer successful sports experiences. The SET 11 Esports association is an entity that on the one hand organizes technical courses and on the other hand participates in different soccer, futsal, basketball and volleyball tournaments.
This academy directed by Francesc Piqué came for the first time to San Sebastian in 2017. They repeated participation in 2018 where they achieved their greatest success so far: proclaiming themselves champions of the B12 category after beating the Andalusian club El Ejido in the final with one of the teams formed by players from Lleida.
In this edition, in addition to their Catalan teams, they will bring several representatives of the Balearic Islands and they will compete in all boys' categories and three girls' categories.
From the Donosti Cup we give them a warm welcome and wish them good luck in the tournament.