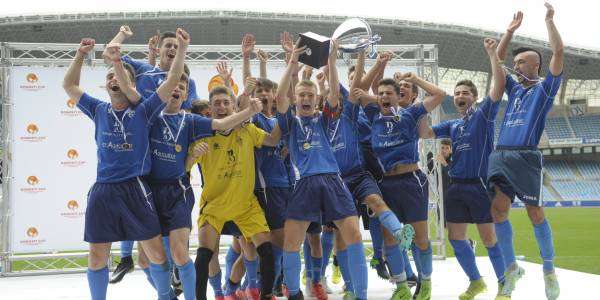 The Lerines, youth academy of good football players from Navarre, confirm their participation in the 2021 Donosti Cup
Sixth participation of this club that has one champion and two runner-up titles
One of the last entries that we have received has been the one of Lerines, a club from a small town in the Navarre Ribera, a youth academy of good football players. In five participations, they have already reached three finals of the Donosti Cup.
Their first participation was in 2014. In the second one, in 2015, they played their first final in the B16 category in which they had to face the French club Cap Jeunes having to settle for the runners-up title. In 2016, they participated with a team in the B15 category and were again runners-up after losing 1-3 in the final against Deportivo Alaves. In 2017, they returned to the tournament with their B16 team, and this time they did manage to win the champions' cup after beating Lazkao in the final 4-2.
This year, they will participate in the B13 category. A team directed by Iñigo de Goñi, architect of all the successes of this club in the Donosti Cup.
From the Organization we give them a warm welcome and wish them good luck in the tournament.