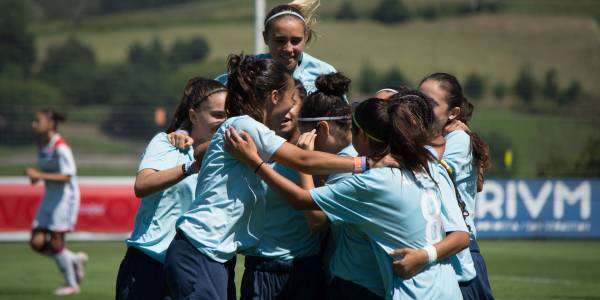 The Catalonian academy Futfem Talents comes back to the Donosti Cup with 12 girls' teams!
This will be their third participation in a row and they will have teams in all the girls' categories
Another new entry and this time with one of the biggest groups of this tournament. We are talking about the Catalonian academy "Futfem Talents" that will participate in the Donosti Cup for their third year in a row with no less than 12 teams, all of them of girls.
This academy, leaded by Carlos Sanchez came for the first time to San Sebastian in 2018 with 6 girls' teams and they became champions of the G18 category after winning the Catalonian club Manu Lanzarote 3-0.
In 2019, they came back to the tournament with 10 girls' teams after their good experience of the previous year. With the same excitement and good football they practise they got to have another team in a final, that time in the G14 category, against the Olympique Lyonnais. They could not win that time and they got the second position of the tournament.
As per their responsible Carlos Sanchez: "our academy is made of selected players along the country to participate in different tournaments. We came in 2018 and 2019 and this year, we wanted to come back with more teams because we like the atmosphere, it is a big tournament, with many teams and the level is high. This is getting upwards and none can stop girls' football".
In this edition, they will participate in all the girls' categories and considering the path they had in their participations, we are sure they will be at any final. We hope this year they will raise again the Champions trophy.
We give them a warm welcome and we wish you good luck in the tournament.