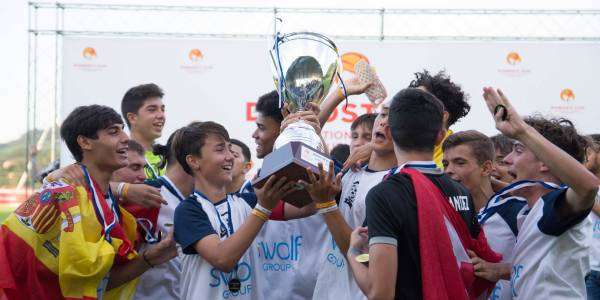 Independiente de Madrid, another champion of the Donosti Cup, confirm their participation
Fourth participation of the club from Boadilla with teams from 10 to 16 years old in boys' categories.
We continue receiving entries from national teams and especially from the Community of Madrid. This time, it corresponds to another club that has previously participated in the Donosti Cup; the Independiente de Madrid. They participated for the first time in the tournament in 2017 with no less than 7 teams. Since then, this club from Boadilla leaded by Luis Bogao, have not missed their appointment with our tournament and always with large delegations. 
The Independiente Madrid count their participations by victories. In fact, in their first participation they already got their first title of champions of the B13 category after beating in an exciting final to the Basque club Antiguoko KE, which they defeated by 4-3. 
In 2018, they repeated their feat of becoming champions again, but this time in the B14 category after defeating another Basque club, Kostkas. 
In 2019, they also did not want to miss their appointment in a final and they become again champions in the B15 category, this time beating the Valencian club Alginet by 3-2.
This year, they will participate for the fourth time in the Donosti Cup with 7 teams in the boys' category, and considering the path they have had until now, we will surely see them playing some of the boys' finals of the tournament.
The Donosti Cup wants to welcome them and wish them good luck in the tournament.